Elene Gedevanishvili in the World Figure Skating Championships in Gothenburg
6 March 2008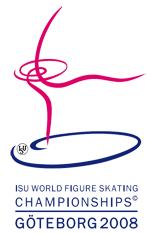 Georgia's young hope in figure skating, Elene Gedevanishvili, participates in the world championships in Gothenburg 17-23 March 2008. The Georgian youngster has made an outstanding quick career and has been at the top of the result lists of the majority of the big competitions for several years. Among other things, her CV has a tenth place in the Olympic Games in Torino 2006, a first place in the prestigious skating competition Karl Schäfer Memorial 2006 and in the three latest European Championships she has been among the ten best.
For Sweden and Gothenburg it is an important event and approximately half a billion of viewers are expected to watch the World Championship this year. Last year's World Championship took place in Japan and the last time Sweden arranged the World Figure Skating Championships was in 1976, that time also in Gothenburg. The Swedish Television will broadcast directly every day from the sports event and sports commentators are as usually Roger Blomquist and Lotta Falkenbäck.
Good luck in the competitions.
Swedish Television broadcasting schedule:
Tue 18/3 20.00-22.45 SVT24
Tue 18/3 00.15-01.15 SVT1
Wed 19/3 14.00-17.50 SVT24
Wed 19/3 20.00-22.45 SVT24
Wed 19/3 00.10-01.10 SVT1
Thu 20/3 13.00-16.00 SVT1
Thu 20/3 16.00-16.30 SVT2
Thu 20/3 20.00-21.00 SVT24
Thu 20/3 21.00-22.45 SVT1
Fri 21/3 14.15-17.50 SVT24
Fri 21/3 20.00-21.00 SVT24
Fri 21/3 21.00-22.45 SVT1
Sat 22/3 12.55-14.00 SVT24
Sat 22/3 14.00-17.15 SVT2
Sun 23/3 15.00-17.55 SVT2
Läs mer:

World Championships 2008 - Gothenburg
International Skating Federation
Violent outrages in Georgia - dictatorship reintroduced
9 November 2007
The Georgian opposition, which begun a peaceful demonstration against the Georgian government on 2 November outside the Parliament building in Tbilisi were brutally put down by the Georgian police, special forces and military in the morning on 7 November. Heavily armed riot police used tear gas, water cannons, truncheons, rubber bullets and noise machines to attack de peaceful demonstrators.

The demonstration was dispersed and a large number of demonstrators were beaten and arrested. The demonstrators gathered again on the other side of the river Mtkvari at a place called Rike and the police attacked the demonstrators at this location too and dispersed the demonstration once more, at which one person was beaten to death by the police.

Later on, several demonstrations took place at other locations in Georgia, e.g. in the cities of Kutaisi and Batumi, where a huge outrage was used by the security forces. Totally, more than 500 persons needed hospital treatment for their injuries.

President Mikhail Saakashvili issued emergency rule in Tbilisi on 8 November, which was prolonged and increased to be in effect for the whole country during 15 days. Simultaneously all private radio and TV stations were closed and nobody is no longer permitted to collect, spread or broadcast information about demonstrations or strikes. At the same time all online streaming from foreign radio and TV stations are blocked in Georgia. The free word has been silenced and dictatorship is reintroduced. Strategic surprise attacks against Abkhazia and South Ossetia by Georgia in the near future cannot be ruled out. Such a scenario, will lead to a large scale war in the whole region with almost certainty.

The whole system of justice in Georgia have had a total breakdown and we appeal to the international community to intervene and take over the police duties, prosecutor's office, court system, correctional system and prisons etc. We are opposed to totalitarian regimes, corruption, political violence and all other bad things that the present regime stands for. Our own clown at the ministry of foreign affairs of Sweden, Carl Bildt, should tell his Georgian companion and friend that misuse of power is not tolerated by Sweden. Or does Sweden have double standards in this question too?

Resign Saakashvili!

Look at live pictures from the outrage:


Film from the attacks of the police in English
More film from the attacks of the police in English
Imedi's last broadcast in English
Imedi's last broadcast in Georgian
Film from the attack of the police in Georgian
Human Rights web portal in Georgia
Pictures from the demonstrations
Pictures from the demontrations
Online petition - Stop abuses by the government of Georgia
Georgia's national team blocked from participating in European Championship Qualifications in Sweden
26 September 2007
The consular office of Greece in Tbilisi has again stopped a Georgian national team from participation in the European Championship qualifying games in Sweden. This time it deals with Georgia's national team in the UEFA European Women's Under 19 Championship. The management of the Swedish national team expressed their dissatisfaction with the handling and will report it to the Swedish Football Federation. The Swedish-Georgian Society will launch a new report to the Commission of Europe, to Swedish, Georgian and Greek departments in concern and also to UEFA and the International Football Federation for renewed cases of athletic discrimination of Georgians.
Georgia should have played against Sweden in the European Championship qualifications at Falköping this Wednesday, against Hungary at Falköping on Friday and against Kazakhstan at Tidaholm on Monday 1st of October. This means, that it is not only a big scandal for the football games, it also means a loss of income due to unsold tickets for the organizer the Football Federation of Västergötland.
Last week the municipality of Värmdö had a visit from their cooperation parties, among them ministers from the Government of the Autonomous Republic of Adjara and civil servants from the Georgian port town Batumi, who also complained on the visa-handling of the consular office of Greece. This time, after much trouble the consular office of Greece had issued a group visa for the delegation, which no longer is accepted within Schengen. The delegation was on the verge of getting stopped in Germany, where they made an intermediate landing.
Thus, we can establish that are not only nasty at the consular office of Greece in Tbilisi, they are incompetent too! The handling of the forest fires in Greece the passed summer describes very well how the Greek authorities and the Greek state machinery works.
We also assume that we will hear a new trumped-up excuse from the Swedish Ministry of Foreign Affairs that it is not their responsibility.
Articles below are mainly in the Swedish language.
President of Georgia to Greece
Greece forced to change ambassador
Greece reported for discrimination of Georgians
6 June 2007
The Government of Greece and the consular office of Greece in Tbilisi, the capital of Georgia, was reported to the Commission of Europe today for discrimination and insulting treatment of Georgians. The consular office of Greece in Tbilisi is processing visas for travellers from Georgia to Sweden.
The Greek consulate has constantly aroused discontent among the visa applicants how they are being treated when they apply for visas and the long processing time for visas, at present more than three months, if it is possible at all to book a time or to get in touch with a handling officer.
Greece has during a long time neglected their obligations towards Sweden and towards Georgians travelling to Sweden. At present, big differencies in service level and treatment are prevailing between the different consulates of the European Union, which are issuing Schengenvisas in Georgia. We want accordingly, that Sweden cancels the agreement with Greece and that the Swedish Government takes its responsibility for their Georgian guests and visitors, either by opening of a consulate of their own, or, by switching to one of the other representatives' offices. Especially revolting is the information about the possibility to pay agents to get a Schengen visa from the Greek consulate.
The latest visa scandal in a row struck Ekaterine Gagoshidze, Georgian and recently Swedish citizen, who today on the National Day of Sweden, should have celebrated her Swedish citizenship with a ceremony at the Stockholm City Hall with her mother, who has been invited especially for this occasion. "My mother did not get a possibility to get an interview until 19 June, even though we started the processing in early April, so she cannot attend. It is so sad", says Ekaterine on the verge of tears.
It is not only tourists who have had visa troubles, also Georgian National Teams, journalists on assignment, musicians and others have had problems. This means, in addition, that Greece is raising trade barriers, which, if nothing else should make the Georgian Government to act in this issue.
We appeal to all people, who has been exposed to discrimination and irregularities, to report this to the Commission of the European Union. Information about how to proceed and a form that one can use can be found on the link below.
Commission of the European Union
Both Greece and Sweden should be ashamed during the remaining time of the European Year of Equal Opportunities for All.
Congratulations and a happy National Day Georgia
26 May 2007
Today, the 26 of May, Georgia is celebrating the Independence Day which is celebrated as the National Day. The day is conmemorated as the declaration of independence 1918, when Georgia declared itself free from Russia. The first period of independence lasted only three years until Russia annexed Georgia into its sphere again.It would take until 9 April 1991 before Georgia was independent again.

The Georgian embassy will arrange an official celebration of the National Day on Tuesday the 29 May 2007 at 17.30-19.30 with special invited guests. The Georgian diaspora will celebrate the National Day once more on 9 June 2007 in the presence of the minister of foreign affairs of Georgia, Gela Bezhuashvili, who will be on an official visit in Sweden then.

It is also the first time for many years since the former Georgian president Zviad Gamsakhurdia is resting in Georgian soil during the National Day. Zviad Gamsakhurdia was the first president of Georgia in modern time and he was recently reburied after his remnants were found in Chechnya and exhumed from there.







Georgia to the final in the Eurovision Song Contest
10 May 2007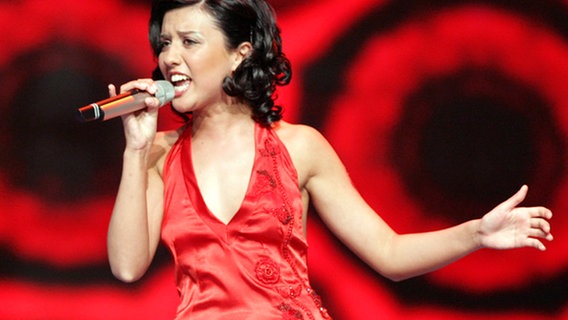 Tonight Georgia went to the final in the Eurovision Song Contest in Helsinki, Finland, thanks to a marvelous performance by Sopho Khalvashi, the Caucasus equivalent to Bjork from Iceland. The happiness and proudness of all Georgians cannot be described.
The final will take place on Saturday 12 May 2007. Party warning, whatever the result of the competition will be.
Eurovison Song Contest in Georgia
Fire at the Swedish Centre in Tbilisi
25 March 2007
A fire took place at the Centre of Swedish Language and Culture in Tbilisi Tuesday afternoon on 20 March 2007. The fire was extinguished by the janitor by his own and the heroic effort meant that the firebrigade just had to return from the scene. The fire caused pretty extensive damages, but the classroom can be restored and used again, thinks Tamuna Maisuradze, head of the Centre. Biggest damages were caused on the book collection and the computer equipment of the Centre and they are vital for the work here, says a grieved Tamuna. We will have to examine every copy to see if we can use them again. The cause of the fire is believed to be an electrical failure.
We appeal to all people travelling to Tbilisi to bring books in the Swedish language to the students who all are friends of Sweden.
Centre of Swedish Language and Culture
Thomas Hammarberg visited Georgia
24 February 2007
Thomas Hammarberg, Commissioner for Human Rights of the Council of Europe, made a visit to Georgia on 12-18 February 2007 to assess the prevailing situation on human rights in the breakaway regions of Abkhazia and South Ossetia as well as in the Autonomous Republic of Adjara.

Among other things the visit resulted in the release of Levan Mamasakhlisi, who has been been imprisoned in Abkhazia for five years and could reunite with his family in Tbilisi.

Included in the assignment was also the review of the Georgian authorities' activities regarding their obligations towards the Council of Europe, especially in relation to the treatment of national minorities, internally displaced persons, migrants and asylum seekers.

At the summing-up briefing and as the first item on the agenda he criticized, as expected, the prison conditions in Georgia. If he only had had time and the possibility to review the Georgian judicial system as a whole, then the forthcoming report had made an interesting reading.

Thomas Hammarberg was elected Commissioner for Human Rights on 5 October 2005 and he took up his duties on 1 April 2006. The visit to Georgia was his second since he was elected Commissioner.

On Monday he will go to Chechnya for a long needed visit, lasting between 26 February to 2 March and then directly to Moscow for another well needed visit.

Council of Europe

Commisioner for Human Rights of the Council of Europe

Thomas Hammarberg

Council of Europe Information Office in Georgia


Georgia opens embassy in Sweden
27 January 2007
Georgia finally opens its embassy in Stockholm. The Georgian embassy is located at Humlegårdsgatan 19, one of the oldest streets of Östermalm. The embassy is situated near Stureplan and the Humlegården in Stockholm, diagonally across from the old Lydmar Hotel, where the government owned Vattenfall AB has its office nowadays. The ambassador is Amiran Kavadze, who also is the ambassador to Finland. A consul general will be stationed in Sweden sometime in March 2007.
Address:
Embassy of Georgia
Humlegårdsgatan 19
114 46 Stockholm
Telephone: 08 - 678 02 60
Telefax: 08 - 678 02 64
E-mail: geoemb.sweden@telia.com
Embassy of Georgia
Delegation from Georgia will visit Värmdö
10 January 2007
The municipality of Värmdö will be visited again by a Georgian delegation with the aim of deepening the co-operation between Värmdö and the seaport Batumi in the autonomous republic of Adjara in Georgia. The co-operation includes primarily the areas of health care, social service and tourism, but also possibilities of trade and industry development is on the agenda. The visit, which is a follow-up of last years visit, will last for ten days and will take place between 10 and 21 January 2007.
Besides, other municipalities in Sweden can get money from the state budget to initiate co-operation with municipalities in Georgia.
Read more:
Children suffering from hearing impairment got help again
22 December 2006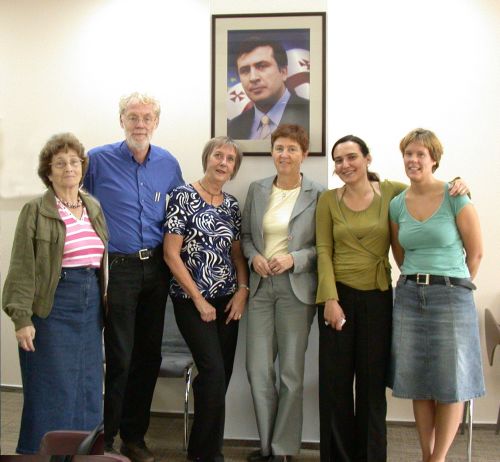 Another admirable project for the benefit of children suffering from hearing impairment was accomplished last autumn. The nowadays well-known assistance group from the Swedish Association of Hard of Hearing in Stockholm carried out hearing tests, tried out hearing aids and ear plugs and gave lectures for politicians, administrative staff, physicians and personnel from the hearing health care about hearing, hearing disorders, Swedish hearing health care and habilitation of children with hearing disorders.

This time, the assistance group worked with children suffering from hearing disorders and deaf children during three weeks at several places in Georgia, more exactly in Tbilisi, Batumi and Kutaisi. Children suffering from functional disabilities have usually a very difficult situation in Georgia, hence, every effort one makes for them is of importance. Everybody is hoping for a new visit from the skilled and friendly Swedes.

This year, the group consisted of Helena Lanzer-Sillén, Karl-Erik Spens, Ewa Martony, Inger Uhlén, Lela Nozadze and Ulrica Andersson. Hosts of the visit were the chairman of the Deaf Association of georgia, Amiran Batatunashvili and his wife Maia Metonidze.

Thank you for your efforts!

Read more:

Report

Lessons learned

Swedish Association of Hard of Hearing in Stockholm

Swedish Functional Impairment Movement - District of Stockholm




Ambassador of Georgia to be accredidated in Sweden
27 oktober 2006
The ambassador of Georgia, Amiran Kavadze, will present his letters of credence to King Carl XVI Gustaf during an audience at the Royal Castle in Stockholm on Friday 3 November 2006. Amiran Kavadze, who is also appointed ambassador of Georgia to Finland, will be stationed in Stockholm.

Swedish Ministry of Foreign Affairs

Georgian Ministry of Foreign Affairs


The ambassador is also visiting the concert of the world famous Georgian men's choir, Ensemble Tbilisi, at Nybrokajen 11 in Stockholm on Saturday 4 November 2006 at 13.00 hours.




Georgia has not only wine - there is also beer
10 October 2006
Johan Håkansson from the Expedition Vittfarne went back to Georgia last summer accompanied by five other Swedes. In the capital Tbilisi the Swedish speaking Tamuna Maisuradze, superintendent at the Centre for studies in the Swedish language and cultural life at the Tbilisi State University, received them together with two of her students, Sophia and Lika. Johan's burning interest in beer and brewery technique drew him and his friends to the small brewery Kavkasioni, in the outskirts of Tbilisi where Sophia's father is brewmaster. In the costumary Georgian way they were received in the royal manner and the group was naturally invited for a big Georgian feast, a supra, after the visit.

Read more about the visit in the Swedish Homebrewers Association's magazine "Hembryggaren", which is on sale now. The article is published with permission by the Swedish Homebrewers Association.

Hembryggaren

Swedish Homebrewers Association Expressen Föreningen Vittfarne
In Georgia there are of course many other breweries and brands of beer. The most well known brands of beer are probably Kazbegi, Argo, Topadze, Lomisi and Aluda, which all keep a good international standard.

Kazbegi Natakhtari




Lisa Batiashvili to Örebro
24 September 2006
The star violinist Lisa Batiashvili from Georgia will make another concert in Sweden. This time the people of Örebro will have the possibility to listen to her and see her with a specially composed violin concert by the Swedish-Finnish composer Magnus Lindberg, who belongs to our time's most celebrated composers, commissioned by the Swedish Chamber Orchestra. Conductor is Thomas Dausgaard and the concert form a part of the master series Yellow.

The concert takes place on Thursday 5 October 2006 at Örebro Concert Hall.

Örebro Concert Hall
Swedish Chamber Orchestra
New Swedish ambassador appointed
22 September 2006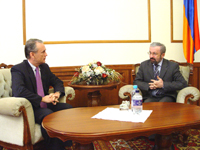 The Govenment of Sweden has appointed minister Hans Gunnar Adén as envoy to Georgia, Armenia and Azerbaijan.
He has previously served in the embassies in Paris and Kiev and at the consulate-general in St. Petersburg and also worked at the OECD-secretariat in Paris.
Hans Gunnar Adén will belong to the Division for Stockholm-based ambassadors and frequent travelling to the countries he is responsable for is included in the job.
He will take up his duties in September 2006.
Georgia appointed Amiran Kavadze as ambassador to Sweden and Finland last spring and will open an embassy in Stockholm in the near future.
Congratulations Hallsberg - Now T-Blues Mob is coming
21 September 2006
Finally the T-Blues Mob from Tbilisi in Georgia is back in Sweden again. This time the popular Georgian blues band will perform at Hotel Stinsen at Hallsberg Saturday 23 September 2006 at 21.00 hours. After the scandalous visa processing by the Greek embassy in Tbilisi before the Frövi Music Festival last summer, we find it almost strange that they want to perform in Sweden again. After getting notified about the Greek embassy's neglecting treatment of Georgians, we will hereafter keep an eye on the future visa processing for travellers to Sweden. This will probably not be the last story about this embassy's visa processing concerning Georgians. Dispite resistance, T-Blues Mob has been performing a few times in Denmark the past summer and autumn, last time at Godset at Kolding on the 18 September.
Welcome back to Sweden!

Hotel Stinsen
T-Blues Mob
Badri Maisuradze at the Royal Swedish Opera again
19 August 2006
This autumn the Georgian tenor Badri Maisurdze is on stage again at the Royal Swedish Opera in Giuseppe Verdi's "The Troubadour". Don't miss the occasion. The first performance will take place on 1 September 2006.
Ticket release on 21 August at 12.00 hours.
Performances:
2006-09-01
2006-09-08
2006-09-13
2006-09-19
2006-09-27
2006-10-04
All performances starts at 19:30 hours
Ensemble Tbilisi to Finland, Sweden and Estonia this autumn
13 August 2006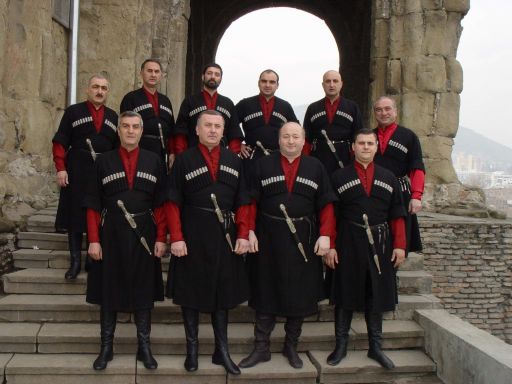 The world famous Georgian men's choir Ensemble Tbilisi will make a Baltic Sea tour in Finland, Sweden and Estonia. The tour begins with two performances at Espoo International Choir Festival on 19 and 21 October 2006 and then they will make a tour in Finland, Sweden and Estonia.
Baltic Sea Tour 2006
Sweden:
Mon 30 Oct - Gävle Stora Gasklockan - 19.00 hours
Tue 31 Oct - Falun Kristinehallen - 19.00 hours
Wed 1 Nov - Stockholm Nybrokajen 11 - 19.00 hours
Thu 2 Nov - Uppsala Korskyrkan - 19.00 hours
Fri 3 Nov - Stockholm Sofia kyrka - 19.00 hours
Sat 4 Nov - Stockholm Nybrokajen 11 - 13.00 hours (autumn soup served from 12.00 hours)
Finland:
Sun 22 Oct - Lappeenranta Sammonlahden kirkko - 18.00 hours
Mon 23 Oct - Kuopio Puijon kirkko - 19.00 hours
Tue 24 Oct - Savonlinna (Nyslott) Tuomiokirkko - 19.00 hours
Wed 25 Oct - Resting day
Thu 26 Oct - Kuusankoski Kuusankoskitalo - 19.00 hours
Fri 27 Oct - Säinäjoki Lakeuden Risti - 19.00 hours
Sat 28 Oct - Tampere (Tammerfors) Finlaysonin kirkko - 19.00 hours
Sun 29 Oct - Turku (Åbo) Tuomiokirkko - 18.00 hours
Estonia:
Wed 8 Nov - Tartu Jaani kirik - 19.00 hours
Thu 9 Nov - Viljandi Jaani kirik - 19.00 hours
Fri 10 Nov - Pärnu Eliisabeti kirik - 19.00 hours
Sat 11 Nov - Tallinn Jaani kirik - 19.00 hours
Sun 12 Nov - Rakvere Kolmainu kirik - 16.00 hours
Mon 13 Nov - Narva Linnuse saal - 19.00 hours
Contact person for the performances in Finland and Sweden is the true friend of Georgia and Swedish agent for Ensemble Tbilisi, Thomas Sahlström, and the well-known folk music festival organizer Ando Kiviberg vouch for the tour in Estonia. Contact person for the performances at the Choir Festival at Espoo is Hannele Granö.
The traditional Georgian polyphony was recognized by UNESCO on 18 May 2001 to be an oral and intangable heritage of humanity and among the Swedish experts on Georgian polyphony can be mentioned Jens Möller and Johan Westman.
Read more:
New exhibition with the Georgian artist Lasha Matiashvili
13 August 2006
The Georgian artist Lasha Matiashvili is participating with a huge piece of art in the exhibition "Time" at Väsby Konsthall - Konstlabyrinten, Upplands Väsby on 23 September - 5 November 2006.
Everything is interconnected by time and is also separated by it. But nobody is able to direct its power. Even we, the human beings, have become the tools in time's hand to create its own dimension. Yet, the things that we consider being only ours, often turn into the time's possession.

Lasha Matiashvili

Opening hours:
Tuesday-Thursday 12.00-17.00

Friday-Sunday 12.00-16.00

Adress:

Väsby Konsthall

Konstlabyrinten

Optimusvägen 12B, plan 2

Upplands Väsby

The artist and friend of Georgia, Staffan Wieslander, is also taking part in the exhibition with two works of art.

The inauguration with vernissage will take place on Saturday 23 September at 14.30 hours at Konstlabyrinten. The exhibition Time will simultaneously take place at Gallery Infra and at Edsvik Konsthall.



Organizer is the organization "Friends of Väsby Konsthall", to which the well-known art expert Ricardo Donoso and Ulf Abel, former first curator at the National Museum in Stockholm, belong.
Swedish-Georgian Society in meeting with the Patriarch of Georgia
29 July 2006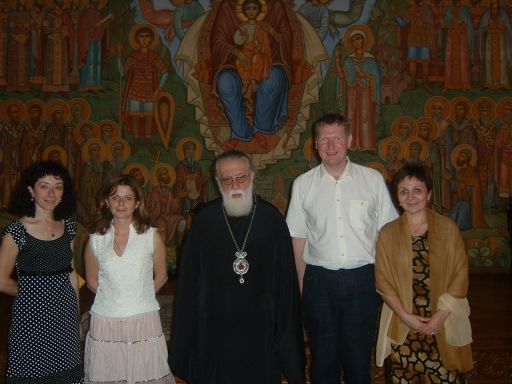 A few days ago, the Swedish Georgian Society met with the highest representative of the Georgian Church, the Patriarch of Georgia, Ilia II (katalikos patriark Ilia meore). The Patriarch wanted to know more about the Georgian diaspora's wish to establish a Georgian-Orthodox Church in Sweden. The reason for meeting with us was that several TV-programmes about this issue have been broadcasted on Georgian Television channels.

Initiator to an official request to the Georgian Patriarchate is subdeacon Mzeguli Eshkeridze, soon ordained priest by the Georgian Church and who could shoulder the task with the support of the Georgian diaspora in Sweden. Ilia II was in favour of the proposal, which augurs well for the future.

During our visit, the Patriach told us that he had visited Uppsala himself in 1968 in connection with the World Council of Churches (WCC) meeting there and met King Gustaf VI Adolf. The friendly Ilia II, who survived many presidents, is considered to be a living saint by many other church representatives and he is highly appreciated around the world.

We also recieved his blessing, both for future plans and as individuals.


For listening you need a Winamp Player


The President of Georgia to Dalarna again
19 June 2006
The president of Georgia, Mikhail Saakashvili, will participate in Tällberg Forum again, which will take place at Tällberg in the municipality of Leksand in Dalarna on 28 June - 1 July 2006. This time he will also be accompanied by his wife Sandra Saakashvili-Roelofs. Approximately 400 of the world's most prominent leaders will gather at Tällberg for workshops dealing with issues how to improve the world. This year's theme is a in depth study of last year's theme "How on earth can we live together?" and is called "Getting serious", which aims at improving living conditions and to reach concrete results.
Tällberg Forum has beeen arranged several times before and for the initiator, Bo Ekman, and his co-workers this year's conference will bring a new feather in their hats.
Read more:
The Public Defender of Georgia teaches Finland a lesson
17 June 2006
The Public Defender of Georgia, Sozar Subari, met the Ambassador of Finland, Terhi Hakala, today to defend Georgian citizens in the very delicate deportation case, which took place in March last year and cought international attention. The Finnish border guard service asserts that the busload with 48 Georgian ladies were denied entry stating that it dealt with trafficing and prostitution and deported them, dispite the fact that they all had valid visas. Nevertheless, Finnish authorities have not been able to present a single evidence against the group and they have to swallov the bitter pill without moving a muscle. Instead, the Georgians on their side, bring forward copmplaints that Finnish officials threatened them and even threatened to rape them.
We are still waiting for the decision of the Parliamentary Ombudsman of Finland.
Read more:
Georgia's State Opera to Sweden
6 June 2006
The State Opera of Georgia will give two performances at the nowadays world-known stage at Dalhalla, outside Rättvik, in Dalarna. The opera Simpson and Delilah will be given on 11 of August 2006 and on 12 of August, one of the world's most popular operas, the Troubadour by Verdi, will be given.

Dalhalla and Dalarna have frequently been visited by visitors from Georgia from far and near. Even the President of Georgia, Mikhail Saakashvili, belongs to the group of Georgians who have been visiting Dalarna and the Lake Siljan area.

The State Opera of Georgia in the capital Tbilisi is named after Zakaria Paliashvili, who is regarded as the founder of the classical music in Georgia.



Read more:






Alexander Toradze playing at Gothenburg and Västerås Concert Hall
19 May 2006
One of the world's most famous piano profiles, the Georgian pianist Alexander Toradze, will play at the Västerås Concert Hall on 7 Spetember 2006 together with the Västerås Simfonietta and Ravel's G Major concert will be performed.
In Gothenburg he will perform at the Gothenburg Concert Hall on 29 September 2006. This time works of Shostakovich, Haydn and Prokofjev will be given.
The star violinist Lisa Batiashvili to Stockholm and Gothenburg
17 May 2006
This autumn Sweden will be visited by the Georgian star violinist Elisabeth Batiashvili. She will give two concerts at the Stockholm Concert Hall on 20 and 21 of September 2006 and one concert at the Concert Hall of Gotheburg on 22 September 2006 togeter with the Swedish Royal Philharmonics. Lisa has already performed several times in Sweden, last time at the Stockholm Concert hall in 2004. She is also highly topical this autumn with a completely new violin concert written for her by Magnus Lindberg, one of Finland's most well-known composers.
Badri Maisuradze to Sweden again
28 March 2006


The Georgian tenor Badri Maisuradze will perform again on the Swedish Royal Opera in Stockholm. This time he is performing in Guiseppe Verdi's Il Trovatore or the Troubadour, which has première on 13 May and ends on 17 June 2006. He has previously performed in the title-roles in Othello and Don Carlos at the Royal Opera and in Tosca at the Dalhalla open air arena. He will also perform on 11 August in Simpson and Delilah at Dalhalla together with the National Opera of Georgia.

Read more:

The Royal Opera

Dalhalla

Svenska Dagbladet





Katie Melua at the Stockholm Globe Arena
20 March 2006


The Georgian super star Katie Melua is performing tonight at the Annex of the Stockholm Globe Arena at 19.30 hours. Katie made her last performance in Stockholm at the China Theatre in 2004, except for a short unofficial performance at Lydmar Hotel last fall. Tonight she will be joined by many Georgians living in the Stockholm area, who taken her to their hearts.

Stockholm Globe Arenas

Read more:

Newsdesk

Dagens Nyheter

Svenska Dagbladet





Swedish aid to children suffering from hearing impairment
26 December 2005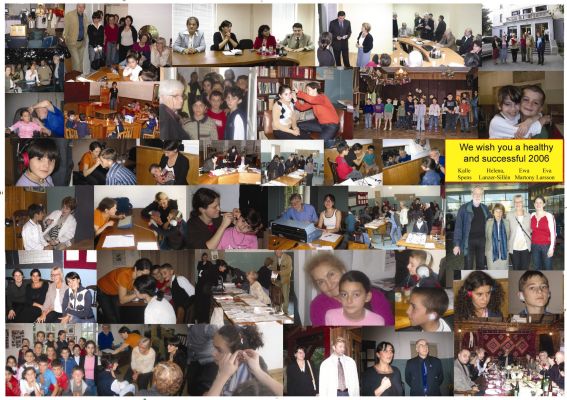 Photos: Helena Lanzer-Sillén, Ewa Martony, Kalle Spens

Autumn 2005 the Swedish Association of Hard of Hearing in Stockholm made a very successful development aid project in Tbilisi, the capital of Georgia, which they payed completely by their own, without any governmental support at all. The project, which lasted for two weeks, focused on school children suffering from hearing impairment and children suffering from hearing impairment at orphanages and was performed in close co-operation with Georgian authorities. Approximately 300 tone audigrams were taken and a considerable number of hearing aid equipments were adapted and given to the children. The association is hoping to find sponsors for a follow-up journey concerning the hearing aid project and also to be able to initiate additional projects for people suffering from hard of hearing. The collection campaign of hearing aid equipments will continue and the Swedish Association of Hard of Hearing in Stockholm has made a petition to receive economical contributions on their Swedish postal giro account 15 66 88 - 4. Please indicate "Östeuropabarnen - Children from Eastern Europe" on the postal giro form.

The group from the Swedish Association of Hard of Hearing in Stockholm consisted of the project leader Helena-Lanzer-Sillén, the technician Kalle Spens, the deaf and hard of hearing teacher Ewa Martony and the audiologist Eva Larsson.

We are grateful to you all and very impressed by your admirable work!

Read more in the Swedish language:

Swedish Association of Hard of Hearing in Stockholm

Swedish Association of Hard of Hearing - Report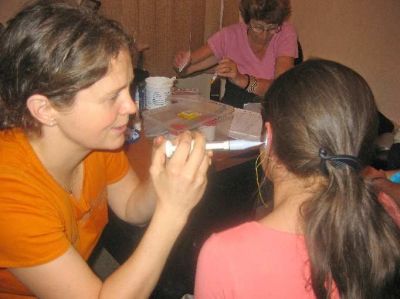 President Saakashvili met members of the Georgian community in Sweden
2 August 2005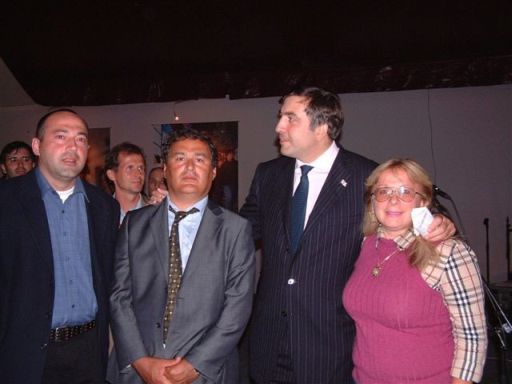 On 2 August 2005 the president of Georgia, Mikhail Saakashvili, met with some of the members of Georgian community living in Sweden. Among the Georgians meeting with the president were Shota Nozadze, Giga Akin and the former chairwoman of the Swedish-Georgian Society, Maria Axell-Tskhondia.




Swedish-Georgian wedding in Tbilisi
18 July 2005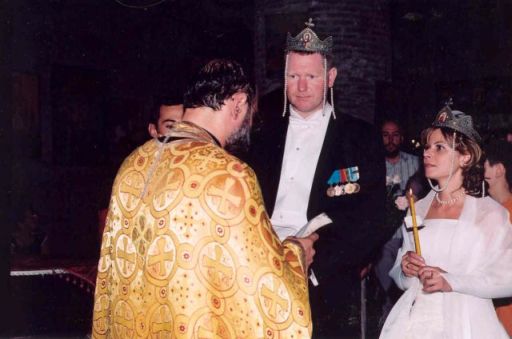 On 16 July 2005 Göran Dalin and Ekaterine Gagoshidze got married in Tbilisi. The wedding ceremony took place at the Anchiskhati Church, the oldest church in Tbilisi, where many friends and people were gathered to witness the wedding.

The wedding dinner was given at the well-known Georgian restaurant Dzveli Sakhli and the guests were entertained by our friends from the famous men's choir Ensemble Tbilisi and the Swedish national folk musicians Jon Lundback and Maria Lärka, playing folk music from the region of Dalarna.

The marriage ceremony was conducted by father Akaki Megrelishvili. Best man was Akaki Jobava and Jon Lundback and bridesmaid was Tamar Tsagareli and Catarina Nilsson.

The wedding attracted a lot of attention from Georgian media and features from the wedding were braodcasted on several TV-channels.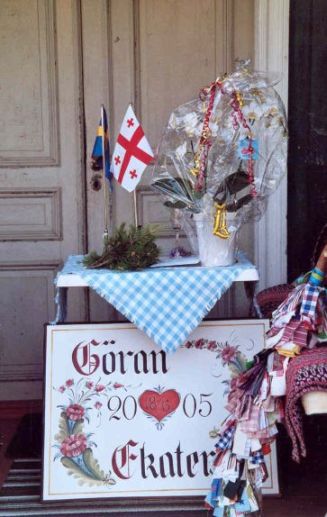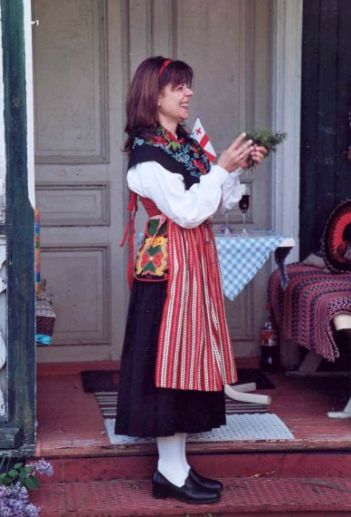 On 18 of June 2005 a pre-wedding ceremony (mallresning) for the bride and groom took place at Fornby in Siljansnäs in Dalarna. This ceremony is traditionally held at the first day the banns are published in the church. Villagers and friends from the Lake Siljan area and elsewhere took part in the festivities.




The president of Georgia to Dalarna
27 June 2005


The president of Georgia Mikhail Saakashvili will come to Sweden to participate in the Tällberg Workshop 2005 in Dalarna on 3 August. The president will also hold a short speech at the gala evening at Dalhalla. The gala evening is held in honour of the Swedish opera singer Jussi Björling and the Georgian opera singer Badri Maisuradze will make a performance.

Read more:

Tällberg Forum

Welcome to Dalarna!!




Swedish midsummer celebration in Tbilisi on 18 June
6 June 2005


This year's Swedish midsummer celebration will take place at the Etnographic Museum on the way to Turtle Lake on 18 June at 16.00-19.00 Hours.

Very welcome!

Eric L. Jönsson
Swedish Consul

We hope you also celebrate the National Day!




Celebration of the Independence Day of Georgia in Estonia
26 May 2005


In conjunction with the celebration of the Independence Day of Georgia in Tallinn on 26 May, the Georgian novelist Dato Turashvili visited the association Lira, which is an immigrant association for Georgians, Azerians, Ukrainians and Uzbekians. The association Lira has got the premises from the Estonian Government and on 27 May a big press conference was held and a speech was given by Dato Turashvili at the crowded premises. Among other things the assembled people got the book "Gurji khatuni - Dedicated to the the world's most sad emigrant women", Tsira Anderson is reporting from Estonia.

About 600 Georgians are living in Estonia and there are several Georgian restaurants, for example the well-known Pirosmani-chain.

We wish them all a happy celebration!




Sweden to be ashamed again
5 May 2005


Norway, Denmark and several other countries have already offered help to the flood- and wheather-battered Republic of Georgia. Urgent help is needed.

Sweden has not delivered any disaster relief and is to be ashamed again (nowadays almost as usual).

Read more about the contributions and the UN agency OCHA:

Reliefweb

Read the latest situation reports and Georgia's appeal for assistance:

Reliefweb





Georgia appeals for international help
30 April 2005


Worst floods in Georgia for many years

Heavy rainfall in combination with melting snow have caused serious floodings in western Georgia. Almost one-third of the country is hit by floodings and a large part of the infrastructure, mainly power lines, communications and roads, is damaged. More rain is expected, which forced Georgia to appeal for inernational assistance to cope with the situation. Only the cost for the repair of roads and bridges is estimated to 10 million US-dollars.

Read more:
Civil Georgia
BBC
Relief Web


Georgia drops visa regime for Swedes and EU-citizens
15 April 2005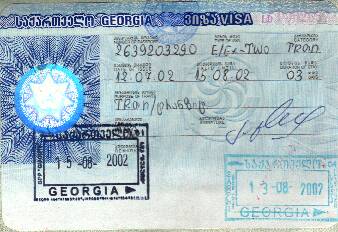 The Georgian Government propose that Georgia will drop the visa demand unilaterally for citizens of EU, Japan, USA, Canada and Israel. The Parliament is expected to adopt the proposal in the near future.

Good suggestion!





Finnish authorities insulting treatment of Georgians is getting more troublesome
3 April 2005
The Finnish decision to refuse entry of Georgian tourists triggers dismay in Georgia. The accusations of prostitution have already caused distressing consequencies to several of the travellers in the strongly tradition-bound Georgia. Now the question of the intentions of the accusations and of the state of evidence at the intervention and at the time of deportation of the Georgians is arousing. This is no longer a private Finnish matter. This hotbed of lies will grow.

Read more about the deportation:

Radio Sweden

YLE

YLE





Georgian Movie Night in Södertälje
12 March 2005




The movie "Since Otar Left" by Julie Bertucelli from 2003 is still shown in different parts of Sweden. This movie, which has recieved overwhelming good critics, deals with the life of three women in today's Georgia, when suddenly a telephone call changes everything.

The film will be shown on 5 April 2005 at 19.00 Hours at the Estrad at Telge Forum, Järnagatan 26, in Södertälje. Only five minutes walk from the commuter train station Södertälje Centrum.

Read more about the movie:

Attrition Org
Svenska Dagbladet




A Documentary about the Expedition Vittfarne on the Swedish Television at Easter
6 March 2005


The documentary from the Expedition Vittfarne will be shown on the Swedish Television (SVT 2) on 28 March at 19.00 Hours and on 31 March at 16.25.

"Vittfarne" will also be shown on the satellite channel SVT Europe on 28 March at 23.35 and on 31 March at 13.10.

"Vittfarne" - a Swedish documentary from 2004 (60 minutes).

The summer 2004 the Association Vittfarne made a scientific expedition in the wake of the Swedish bviking chieftain Ingvar the far-travelled one. Ingvar and his men are believed to have made the same journey eastwards with 30 ships during 1036-1041. The journey, which is described at around 30 runic stones in central Sweden, in the Islandic Saga and in the Georgian Chronicle, started at the village Zmievka (Kherson Oblast), went through Russia and Georgia, to Baku in Azerbaijan. The scientific expedition lasted more than three months and the Swedish Television had a photographer on board from the start to the end.

Read more at:

Association Vittfarne




A Swedish Humanitarian Disaster
17 February 2005

The Swedish-Georgian Society protest against the Swedish Parliament's decision not to give amnesty to apathetic refugee children in Sweden.

Our Goga, whom we know personally and in no way what so ever have any political ambitions or any wish to be treated differently from our own children is left to the arbitrariness of politicians. Our eight-year old Goga is ill and needs help.

The Social Democratic Party and the Moderate Party are responsable for the decision.

I shall not say what I think of the Minister of Migration, Barbro Holmberg.

For more information look at the Swedish Television and the TV-news programme Rapport.

Sweden, Sweden where are you heading?!?

Göran Dalin
Chairman
Swedish-Georgian Society




Swedish Military Inspection in Georgia
14 February 2005

On 9-10 February Swedish officers carried out an inspection of the Georgian military forces in accordance with the Vienna Document from 1999, which was adopted by the Organization for Security and Cooperation in Europe (OSCE). Such inspections are carried out regularly in the affiliated member countries to increase the confidence between the member states and to create openness about military forces and military conditions. The Swedish military inspection group concentrated its visit to army units along the Black Sea coast.




Katie Melua No. 1 in Denmark
19 January 2005

Katie Melua is now No. 1 on the Danish hitlists with her debut album "Call off the search". She is still listed very high on several hitlists in Europe. In Norway she is now on the 22nd place and in the United Kingdom she is number 20.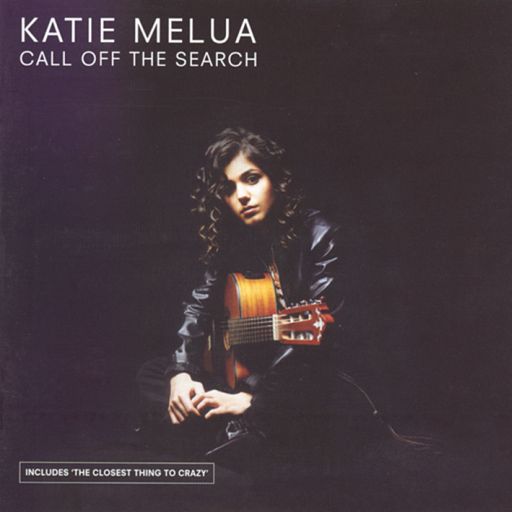 Great!

World Top Chart
Norwegian Top 40
Katie Melua




Christmas Presents to Georgia
24 December 2004

In the nearest days Capio S:t Göran's Hospital sends hospital equipment to Georgia as Christmas presents. Capio S:t Göran and Capio Diagnostik give away a complete x-ray laboratory, ultrasound equipment, displays, walking chairs, operating tables, bunks, etc.

Totally it is around 18 cubic metres of equipment which is sent from Capio S:t Göran to Lund's University Hospital, which among other things gives away dialyse equipment. The consignment will then be shipped to Georgia in the beginning of January.

The project is a cooperation programme between Capio S:t Göran's Hospital, Lund's University Hospital, Sida and the education consultant Swedish Healthcare in Malmö, which has arranged education and training of the Georgian Ministry of Health in cooperation with Capio S:t Göran.

Capio S:t Göran's Hospital
Lund's University Hospital
Sida




Lucia Celebration at the Swedish Consulate in Tbilisi
13 December 2004

The Lucia celebration this year at the Swedish Consulate in Tbilisi gathered around 50 persons, among them Georgians, Swedes and other Scandinavians. The Swedish honorary consul, Eric Jönsson, wished happy Lucia to all. The choir consisted, as usual, of students from the Swedish Center for Studies in the Swedish Language and Culture in Tbilisi. The gathered could listen to Swedish Christmas songs, try mulled wine and eat Swedish Christmas cookies.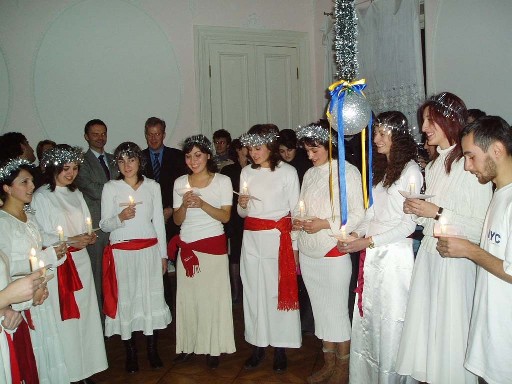 Photo: Sergi Mchedlishvili
The Crew from the Expedition Vittfarne Reunited
4 December 2004

The crew from the different stages of the Expedition Vittfarne were reunited at Katarina Norra skola in Stockholm on the 4th of December. Photos and films were shown from the expedition, which started from Zmievka (Gammalsvenskby) in Kherson Oblast in Ukraine, went through Georgia and ended up in Baku in Azerbaijan last summer. The documentary film from the expedition, which will be shown on Swedish Television, will be ready in March 2005. A big article about the Expedition Vittfarne will also be published in the next issue (No. 1/2005) of the Nordic Science Magazine "Illustrerad Vetenskap", which will be released on the 27th of December.

Association Vittfarne
Illustrerad Vetenskap




Giorgoba was Celebrated in Stockholm
23 November 2004


The Georgian feast of Giorgoba was celebrated in Stockholm on the 23rd of November. Giorgoba, St. George's Day, is celebrated twice a year in Georgia, firstly on the 6th of May in honour to the Saint's death, secondly on the 23rd of November as a public holiday. This day was also celebrated as first anniversary of the Rose Revolution. Concurrently, we had to say good bye to the physician Lasha Loria, who returned to Georgia after doctoral studies for one year at the medical university in Stockholm, Karolinska Institutet.

We'll meet again Lasha!

Georgian Patriarchate

St. George




Swedish-Georgian Wedding
11 November 2004

Christer Gusterman and Khatuna Khujadze were married in Stockholm on the 11th of November. One of the most well-known poems of Galaktion Tabidze "Usikvarulod" (Without love), which had been translated into Swedish by themselves, was dedicated to their love and marriage.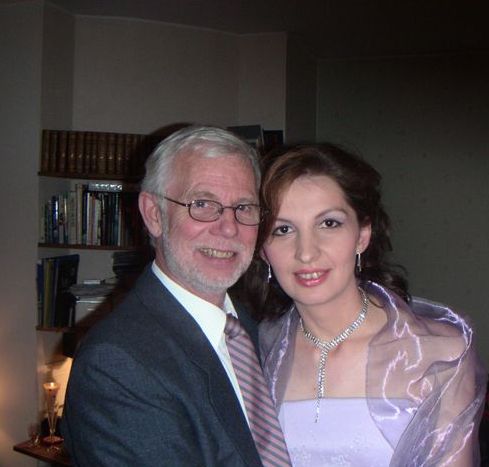 Photo: Lars Björkberger

The wedding ceremony was carried out in their home in presence of the nearest and dearest.

Christer works since long ago as a radio reporter and can be heard on Radio Viking in Stockholm and also on Kustradion, a Scandinavian radio station in Spain.

Congratulations!

Radio Viking
Kustradion




Minister of State, Tamara Beruchashvili, on Official Visit to Sweden
10 November 2004

The Georgian Minister of State, Tamara Beruchashvili, responsable for EU integration and transatlantic connections made an official visit in Stockholm on 6-10 November. During her visit she had discussions with representatives of the Swedish Government and the Swedish Ministry of Foreign Affairs concerning important issues about Georgias ambitions to get integrated into the EU. The small Swedish-Georgian colony in Stockholm took the opportunity to meet her in connection with a lecture at the Swedish Institute of International Affairs and several important issues were discussed in a relaxed atmosphere.

Welcome back Tamara!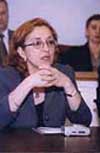 Tamara Beruchashvili
The Executive Power of Georgia
The World Star Katie Melua in Sweden
29 September 2004

The Georgian singer Katie Melua gave a concert at the China Theatre in Stockholm on the 29th of September. Katie, who nowadays is living in London, has been No. 1 on the bestseller's lists in the United Kingdom for several months during 2003 and 2004. She is charactirized by many as a new Norah Jones and is predicted to reach great success in the music business. Dispite her young age she showed fantastic talents, both as a singer, musician and performer. This was her first performance in Stockholm, but not her last, for sure. We look forward to her next visit. Highest mark to Katie and the band.


Katie Melua
Katie Melua
Ensemble Tbilisi in Stockholm
30 August 2004

The world famous men's choir Ensemble Tbilisi gave a concert at Södra Latin in Stockholm on the 28th of August, which coincided with the celebration of the Georgian feast Mariamoba.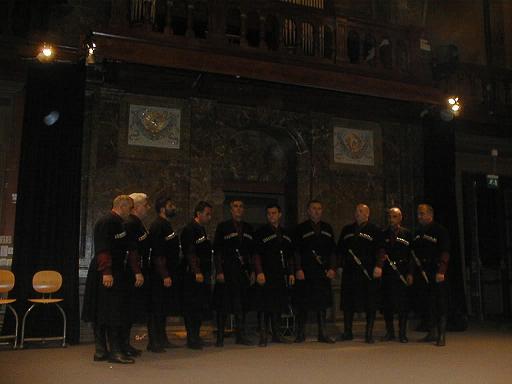 Photo: Ekaterine Gagoshidze

In connection with their stay in Sweden they participated in the homecoming party for the Expedition Vittfarne at Katarina Norra skola. Approximately one hundred participants had the opportunity to enjoy Georgian dishes, beautiful songs and many speaches. Ensemble Tbilisi also took part in the inauguration of "Open Mind Stockholm" at Skeppsholmskyrkan and gave some highly appriciated performances the same weekend in a crowded Sofia kyrka at Södermalm in Stockholm.

We hope you did not miss the occasion!

Ensemble Tbilisi
TS Music
Sofia Church




E-mail:
swe_geo@yahoo.se
Back to main page