Georgian Mural Painting as Gift to the Swedish University College of Arts Crafts and Design
13 December 2004

The Georgian artist Lasha Matiashvili, who made the fresco "Saint Lucia" gives the painting to the Swedish University College of Arts Crafts and Design in return for his education and training. "Saint Lucia" took about six weeks to accomplish and for Lasha it was a very heavy job since this very technique normally needs cooperation between two persons or more. The work of art is made by the Venezian stucco lustro technique or the bella pica technique, which is used more commonly today, an art technique used in the ancient Italian city of Pompeii and was found through the excavations of the city much later.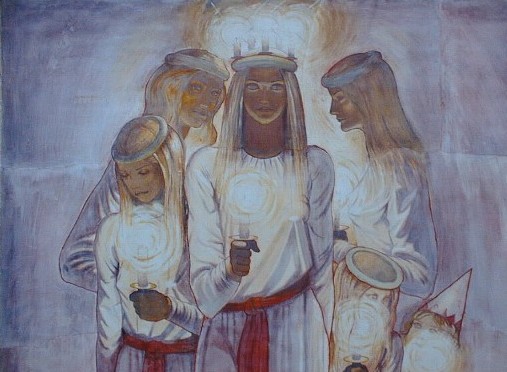 Stuco lustro is a wet technique where the background of the painting first must be prepared with many layers of sand and calcium and then painted with pigment and water and then pressed with an iron to get the caracteristical lustre, all within 24 hours to avoid the painting to dry up. "Saint Lucia" is not a small painting. On the contrary it measures 2 x 1,5 metres. A big work of art like this must be made in several steps. The work of art is built up by a relatively small set of picies, which is put together like a puzzle along the painted motive.

"We wanted to know how the artists felt when they made their picies of art around the time of the birth of Jesus Christ" and with "we" Lasha means himself and his tutor and teacher Luigi Inganni, whose father, Domenico Inganni, was a famous mural painter from Italy who introduced the technique in Sweden. "In addition, we also wanted to use ancient methods in modern style" and then the coice of motive fell on the higly topical Lucia. This work of art is one of the first in Sweden made by the stuco lustro technique, but many world famous artists like Michelangelo, Mazacho, Giotto, Rafael and Leonardo used the wet art technique. However, they did not work with iron, so here Lasha is unique. He has written down the line of action for every step because it was originally an experiment. Anyhow, if we may say it ourselves, we just wonder how good a real fresco can get. Stuco lustro was not the single technique used in Pompeii so next year Lasha will work with other techniques which has been found there.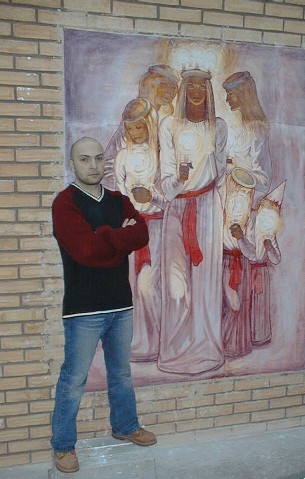 Lasha is one of four international students, who every year get the opportunity to study at the Swedish University College of Arts Crafts and Design. Earlier, he has been studying arts in Georgia, first one year at the Technical School of Art in Tbilisi which was followed by five years of studies at the Georgian Academy of Art. Thanks to his sister Tamuna, who attended a master's course in land management in Stockholm a few years ago, he got the opportunity to get here after she informed him about the possibility. Lasha has learnt a lot from the studies and he likes his classmates very much. "But the best with the education is the relation teacher-student", he says and it is already decided the he and his teacher will visit Georgia and Lasha's family next year. Like for all Georgians the family is important and he sends them all a greeting now in Christmas time.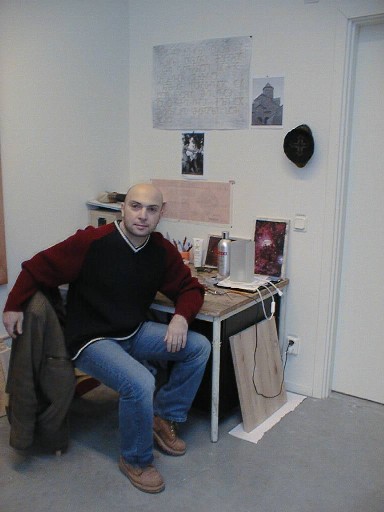 Lasha Matiashvili is 32 years old and he is born in Tbilisi, but he has his roots in Sighnaghi in the wine-district Kakheti, in eastern Georgia.

University College of Arts Crafts and Design




E-mail:
swe_geo@yahoo.se
Back to main page